India Day Parade (Naperville) 2022 TIPS & FAQ's
What NOT to bring to India Day Parade:
No coolers of any size

• No large backpacks

• No outside food allowed

• No outside beverages (except for baby formula, baby food and

medically required food/drink) will be permitted inside the Rotary Hill park

(Concert area)

• No Illicit drugs

• No outside alcohol will be permitted.

• No weapons of any kind including "Concealed Carry" firearms

No large umbrellas

• No tables

• No glass containers

• No musical instruments

• No Signs or No Banners

• No bad attitudes – remember this is a community event run by

volunteers, it's free so come and enjoy!

• Anything that may create a safety hazard or interfere with other

patrons.
Q. When is India Day?
 What time does it start?
India Day celebrations start at 11:00 AM on August 13th, 2023 at Rotary Hill Park, Naperville, Illinois and will last till 10:00 PM.
Q: What is the cost of attending India Day? Is there a separate fee
to view the concert?
A: General entry to India Day celebrations, parade and concert is

free. Limited premium concert seating is available for our sponsors.

There will be premium seating available for purchase at the concert venue
Q: What is the parade route and distance? What street restrictions
will be enforced on the day of the parade?
A: The parade begins at Mill Street (East of Naperville North High

School) and proceeds on to South Mill Street ending at Jackson near Rotary Hill Park
where the main event is scheduled.

The parade route is 1 mile long. Please See parade map below for street restrictions.
Due to the Parade and the India Day Celebrations many of the streets will be closed for regular traffic. Please see the Map below: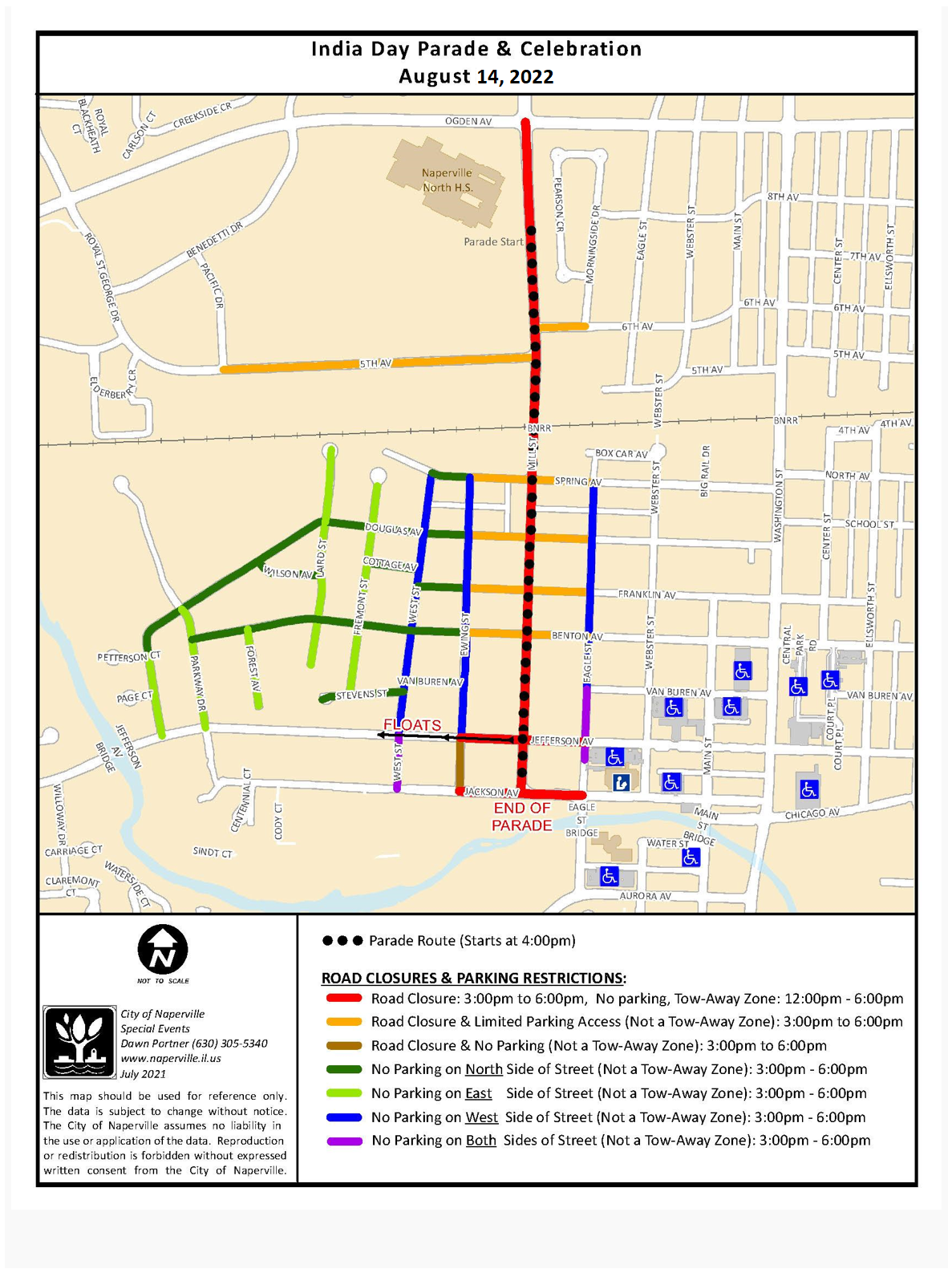 Q: I am not a parade entrant, what time should I get to the parade?
A: We recommend that you arrive early to get a good spot. For a less crowded area to watch the parade, you can pick the intersection of Mill and Douglas, or
Mill and Spring, or Mill and Franklin and the last leg of the parade on Mill and Jefferson. Early spectators are expected to arrive between 9 AM and 11 AM. The parade will start
at 11:00 AM.
Q. What are the designated parking options at the parade and concert/celebrations? Is there Handicap parking?
A. There are many parking options at India Day event. There is handicap

accessible/ADA parking at Naperville Central High school, Naperville North High
School, Naperville Municipal Parking and St. John Church Parking. We encourage to
come early to secure your parking spot.

ICO encourages our guests to park at the designated locations. There will be volunteers

who will be able to advise if there are any last-minute changes.

ICO encourages to take rideshare services like Uber, suggested Drop off

points are:

440 Aurora Ave, Naperville, IL 60540;

Naperville Central High School;

Naperville North High School (for Parade)
Q. Will there be enough Parking?
A. We have multiple parking spots as indicated above. Due to

the anticipated Crowd, we strongly encourage Car Pool, Rideshares

(Such as Uber, Lyft etc.)

* Please do not park in downtown Naperville or any residential parking area. Your vehicle may get towed.
Q. Does the park close if it rains?
A. No, India Day parade will remain open if it rains but may close

temporarily during periods of lightning. ICO works with the Local

Emergency Management Weather team to monitor the weather during

India Day parade. All guests will be asked by volunteers to evacuate

using clearly marked safe exit routes to designated safe areas during

periods of lightning and inclement weather.
Q. What do you suggest a family bring for The India Day Parade?
A. Summertime in Naperville can be quite sunny and warm. ICO

suggests that you bring sunscreen or some sort of sun protection, folding

chairs and sunglasses. We recommend you wear good shoes to walk

around and be comfortable. India Day admission is FREE, but you might

want to bring some extra money for shopping at the Bazaar, food and

beverages. Most of all, have patience and fun.
Q. Do I need Cash, or can I use my Credit Card for food, drinks and
merchandise?
A. Credit Card is preferred. For food, drinks and merchandise for

purchase will be accepting Credit cards and Cash
Q: I live around the corner. Can I bring my own alcohol?
A: No. Attendees found in violation of City Code Section 8-4-030 for

Open Container shall be ticketed and fined by Naperville Police per

existing legal statutes. Any Liquor or outside beverages will be discarded

at the security and will not be allowed enter inside.
Q. Where can I find Lost and Found for items left at India Day. How
do I retrieve it?
A. For any Lost and Found – please stop by the Information booth, just

inside Rotary Hill park and/or at the parade entry. After the event check the

Naperville Park District office at Mill and Jackson for any remaining

items.
Q. Who organized India Day parade (Naperville) and why?
A. Indian Independence Day is being celebrated by Indian Community

Outreach Organization (ICO) a not-for-profit organization in association

with City of Naperville.

• Mission of ICO: To embrace, preserve and promote the cultural

heritage and contributions of Indian Americans while educating

them to get involved in America's growth.

• Vision of ICO: To form and be part of an all-inclusive society while

contributing towards the betterment of our great country and our

next generation.

• Our Motto is:

Educate: Integrate: Empower

Naperville is the first city to support and host India Day parade and

celebration in the suburban Chicago-land area.
Q. What are the various activities and events that will occur at India Day?
A. India Day is designed to be a fun day with lots of activities planned

and can be done at everyone's own pace and will. The following are the

various activities planned; you should plan on attending the whole day to

enjoy.
A One Mile Festive Parade
A Bollywood concert
An International Food Court
An Ethnic Indian Fashion Bazaar
Variety of Booth vendors for services and other merchandise
A Local Talent Show
Health Fair
It starts at 12:00 pm. We encourage to wear comfortable shoes and

enjoy the festivities. The activity announcements and the programs will

be continuously announced to keep everyone informed.
Q. There will be so many people, how do you deal with littering and garbage?
A. Yes, we are anticipating large number of people to attend the India

Day celebrations. Please note that India Day is a symbol of celebrating

the culture and diversity of people from India, and it reflects our values

and heritage. The Park, Parade Route will have many garbage cans available for
people to throw their garbage. We request everyone to be responsible

for their trash and help us keep the parks clean. Your responsibility as

attendees and our responsibility as the Organization is to hand over the

Park in its original condition, Please absolutely no littering.

If you are found littering, you may be fined for the offense.
Q. We are participating in the parade and need to drop off items for our float, how do I do that?
A. We will have the provision for you to drop off items to your float, your

designated individual responsible for the float will be receiving specific instructions for
loading and unloading of items from the float. Please

refer to those notes for the latest information. Rest assured there will be

many volunteers and information booths to assist.